Wednesday - June 4th, 2014
PUPPET CIRCUS!!!
FINALLY!!! I never thought I'd see the day when I get to own Puppet Circus, BUT IT HAS HAPPENED. I was getting to the point where I was like, "ANY JSK COLOURWAY OUTSIDE OF THE PINK ONE WILL DO! ANY COLOURWAY!!!", but I was able to get it in my first choice colourway, which is ivory. I got it thanks to several special ladies, who are the best enablers in the world. I also can't thank one of them enough for being so courteous and letting me go after it. I believe that she sent in a request to get it but found out that it was one of my ultimate dream dresses and BOWED OUT OF BUYING IT. HOW OFTEN DOES THAT HAPPEN?! I really can't express how grateful I am for her thoughtfulness.
Now I feel super greedy and want to own the wine JSK too. Someone stop me lol.
Obviously this has put a stop to all my spending. I hope that I'll love it when I receive it. Most likely I'm going to make a vlog of me opening the package. I'm kind of scared and hope that everything goes well! There's only minor damages on the lacing so I hope that's the only damage that's on it. I also hope that it gets to me safely!!!
I'm still in a daze over this because I'd often moan about how elusive Puppet Circus was and how I was able to get my Iron Gates so easily but Puppet Circus would never show up at the right time for me. I even bought several items just for the day I own the ivory PC JSK and even considered selling a few of them because I seemed to be having rotten luck getting my hands on this dress. Well… I guess that I don't have to sell those items!!!
Now that I finally own it, I feel like my lolita lust has been sated and I'd feel content not owning anything else… outside of a few other pieces, of course ;)
Sunday - May 4th, 2014
Acne
I've had issues with acne since starting college (which was in 2007) and only finally has it died down a bit due to some treatment. Before college, I used to get a zit every now and then on my chin, cheeks, or forehead, but once I went to college, my acne got worse and worse where the pimples never went away and I finally understood what "pizza face" meant. I'm not sure what triggered the increase in pimples and why it never stopped. I'm from California and I thought that maybe moving the Massachusetts and the weather there had something to do with it, but then when I moved back to California for a year and a half, I still had acne. During my year and a half, I did live in Korea for a month or so and surprisingly enough, my face got loads better, which is why I joke that everyone gets prettier and thinner when they go to Korea. I graduated college,my face never got better, and I was super scared of going to a dermatologist that I never went. My mom's friend recommended me clindamycin phosophate, which has absolutely saved me. My face looked like the Appalachian Mountains but now the bumps have died down for the most part; however, what I wasn't prepared for was all the scarring. My face has so many red spots, purple spots, craters, and what appears to be enlarged/stretched out pores that my face went from "pizza face" to "crater face". I was so glad that my face has "flattened" down but that brought on a whole set of other problems with my skin.
I decided that taking pictures would best document my journey to lessen the appearance of these scars. Right now I'm sampling a bunch of products and figured that taking pictures would help me decide which product works best and stick to that. I'm also listing all the products that I'm using to complement the pictures.
Things to note: I'm trying to get rid of all the facial cleansers I have bought. During college, I used Neutrogena's Oil-Free Acne Stress Control Power-Clear Scrub and Oil-Free Acne Wash Pink Grapefruit Foaming Scrub. Used both for 5-6 years and they barely did anything. You'd think that I'd give up on those products after using it for 5-6 years but I kept buying it because I'm a dolt (and also because compared to all other products, the pink grapefruit worked just a touch). I've also tried other methods during my college years that others have suggested, such as using regular face wash, exfoliating almost every day, using normal bar soap, washing my face no more than once a day and to not wash if I could help it (that one was hard), and using Cetaphil's Daily Facial Cleanser. During the time when I used clindamycin phosphate, I used Missha's Creamy Latte Strawberry Cleansing Foam and noticed that my face was still red, thus I tried Beyond's Moisturizing Facial Foam Moisturizing Recipe with Honey, Oat, and Olive because I figured that the Beyond face wash might be "more gentle" due to all the ~natural stuff~ (hahahaaaaa). Well, the Beyond face wash was AMAZING and it really helped lessen the redness and I noticed that my zits started to go away faster after I started using that wash. If I could continue to use any face wash from the ones I have used, I would use the Beyond one but the thing is, I can't find it anywhere in America. I now use clindamycin phosphate for spot treatment and stopped applying it on all the places I used to have acne because it stopped doing anything. It still works wonderfully on areas with an actual pimple on it. I've moved on to lighteners and spot reducers in hopes that it'll lessen the appearance of my scars. I've started using Peter Thomas Roth's Camu Camu Power C x30 Vitamin C Brightening Serum on April 13, 2014.
Other products that I've used before clindamycin phosphate came to save the day (aka products that also didn't work):
-Aveeno Ultra Calming Foaming Cleanser
-Clean & Clear Morning Burst Facial Scrub (Never used this stuff until the day I got to Massachusetts… and then my skin just went downhill from there.)
-Clean & Clear Dual Action Moisturizer
-up & up Action Moisturizer
-St. Ives Apricot Scrub
-Neutrogena Oil-Free Anti-Acne Moisturizer
-Cetaphil Moisturizing Lotion
-Clean & Clear Blackhead Eraser Scrub (This REALLY didn't work. I still have some left that I need to use up.)
If any readers out there have any suggestions, PLEASE FEEL FREE TO SUGGEST! I was also supposed to see a dermatologist last month or so but it didn't work out, oops! Gotta get on top of that.
All pictures are taken right after I've woken up without washing my face. My face looks so much better in pictures than what it looks like in real life. My camera and my cellphone camera can't pick up all the details :(
Click here for pictorial acne diary: April 28, 2014-May 4, 2014
Sunday - April 27th, 2014
What I am buying these days and how
A few years back, I sold almost all of my fancier dresses because my criteria for buying dresses were:
-Ability to pass off as normal clothes or be seen as a "quirky dress"
-Machine washable
The machine washable criterion has still remained to a certain extent and I've been getting braver about dunking my dresses in cold water to hand wash. So far I haven't had bad luck but one day I have a feeling it's going to bite me in the ass.
Anyway, I digress.
The thing is, I really love opulence, but I think I forget about this every now and then. Whenever I rewatch my favourite movie, Amadeus, it reminds me of how much I love lush looking fabrics, vibrant colours, tons of lace, and where the idea of "go big or go home" reigns supreme. This side of me battles with my more practical side that says, "YOU DON'T NEED THESE DRESSES BECAUSE YOU DON'T EVEN WEAR SOME OF THEM ONCE A YEAR.", and while that is correct, I can't resist the frills and the oh-so-pretty things with tons of detail and lovely fabrics.
In addition to wanting to look somewhat like the beautifully dressed characters on Amadeus, I also want to look like a young girl from the 1900s or some ~classic lolita maiden~ (lol). I think that Dear Margaret's catalogue pictures for Modern Lady II best exemplifies what I want to look like. And of course, thrown into this is my desire to tone down these dresses as much as possible so that the most people will say about what I'm wearing is "Cute dress. I like the print."
My lolita collection is getting way too large, my closet can't contain all my frills, and I'm starting to not even know what kind of things I want. I need to prune my collection but don't know where to start! Some of the things I bought recently are things that don't even fit into the three largest categories in regards to how my lolita whims go, so perhaps those things are the ones that should go first?

I have no idea what possessed me to buy this. I was so sure that I wasn't going to buy it and then suddenly I did. Maybe I'll like it? I think the colourway being similar to Fantasic Dolly sucked me in.
A decision I made a few days ago is that I'm going to stop trying to buy everything on my wishlist and to prune it because my wishlist is RIDICULOUS. I also decided that outside of my wishlist items, I'm going to try not to buy anything secondhand and I'm actually going to cut down looking at secondhand websites and auctions. Because of the crazy secondhand prices that a lot of dresses are going for these days, I also decided that I'm going to buy everything straight from the brand rather than trying to hunt things down later since the price might be something ridiculous.
I've noticed that my shopping habits have changed as well. Before, I would dislike using shopping services and resorted to them as last resort, but now, if I can't get a shopping service, I decide to miss out on the item because trying to get it myself is such a huge hassle. My wallet groans but I prefer not getting all fidgety over these dresses and getting miffed every time the server crashes. I also now send in a maximum bid to my shopping services for auctions and ask them to snipe bid rather than me staying up wee hours of the night trying to snipe bid myself. The reason I do this is because I realized that I spend less doing so (before, I used to end up bidding more than I intended because I got caught up on bidding) and also because I have to wake up early for work lol.
Friday - April 18th, 2014
Lolita Blog Carnival: Your First Lolita Item
My first lolita item… hm… that is difficult to pinpoint! I've admired lolita for a long time but never actively bought anything until 2009. Wow, 2009 seems just like yesterday and I always considered myself a newbie when it came to being a lolita, but it's already been 6 years! How time flies. Anyway, before 2009, I did buy things from brands that lolitas wore such as h.NAOTO, Sex Pot Revenge, Sexy Dynamite London, and Putumayo, however, I didn't wear them in a lolita fashion when I bought these items. Here are the skirts that I still own from that period in time (circa 2006-2007):

Putumayo

Putumayo

h.NAOTO Blood
Regardless of these previous purchases, the item that I consider my first lolita item is this beauty: Baby's Circus print JSK.

The reason why I consider this dress my first lolita item is because it's the first main piece that I bought when I decided to jump into lolita fashion — buying this dress was a symbol of me committing to this fashion and no longer just being an admirer. After buying this dress, everything went downhill from there :p I hope to never let this dress go since I'm a terribly nostalgic person. Even though I've moved away from sweet lolita for the most part, I still love this dress to pieces, just as much as I loved it when I first saw pictures of it online.
Vanillas Traumfabrik
ABC Lolita
Spoon and Fork
Breiðholt
The Life of a Lolita
ImaPrincess
The Electric Carousel
The Bloody Tea Party
Alpine Heidi
Alice in Lolitaland
Sunday - April 13th, 2014
Haul post
Last week, I finally got my huge pile of packages from my friend. They have been piling up in her room for several months and some of them date back to last year. I haven't done a haul post in a long time (the last one I did was when Got Lolita was fairly active) so I thought I'd do one since this haul was so big!

My pile of packages is a smidgen taller than me, and I'm 5 ft 2 in (157.5 cm). Despite looking disheveled, I HAD to take a picture next to my packages because it was ridiculous.

Opening up all the packages was tiring and grueling. The entire time, I told my friend, "THIS IS DISGUSTING! I'M DISGUSTING! I'M NOT BUYING ANY MORE!" I also thought of my coworker since she always says that she is disgusting whenever she buys new makeup. Well, I think I outdid her this time around with the disgusting factor!

I really need to stop buying ;(

Now onto the items!

Jane Marple beret, offbrand headdress, 2 Excentrique earrings, offbrand ring+bracelent, Angelic Pretty headbow, Angelic Pretty canotier, Innocent World bonnet

Half of the items were "freebies" that came with the main piece I got. I'm not too sure as to what to do with the headdress, ring+bracelet, and canotier — most likely I'm going to sell it.
I thought that I'd sell the bonnet but I'm definitely reconsidering at the moment.
Super duper happy with my Excentrique earrings because they're screw-ons. They're really beautiful!
I am so happy with the JM beret because it's been my dream beret ever since it was released and I was pooped when it was sold out when I asked a shopping service to get it for me. It's made of real rabbit fur and it's soooo soft! The brooches are pictures printed on a felt-like material, which is kind of odd and feels a tad cheap. Also, a weird thing I noticed was that the cameo brooch from my hat looks a lot like the cameos on my Meta dress' buttons:

Maybe there is a standard picture used for cameos made for the mass market? I should look at my mom's cameo jewelry to see if it looks a lot like my buttons and brooch.

Jane Marple skirt, Metamorphose beret, Metamorphose socks

I bought several items from a lolita friend, who has moved away from the fashion, and along with the items I bought, she sent over some extras. I rarely wear skirts while wearing lolita but there is a coordinate I want to try with all of these items. The beret is definitely a keeper since I can never have too many berets, mwahahahaha!

Victorian maiden jacket, Juliette et Justine bolero, Moi-même-Moitie bolero

I've been lusting after the VM jacket ever since it was released so I had to get it when I saw it for a fraction of the original price. I hope to own the skirt one day along with the green colourway because the set reminds me of a more toned down Vivienne Westwood suit. The red tartan is really loud and kind of hard to incorporate it with my normal clothes, but I'm going to try!
The JetJ bolero is a size 1 and I think that it may be slightly small for my bust, but I'm going to see if I can work it with some outfits. I thought that the JetJ bolero was made of chiffon so I was really surprised to find out that it was made of heavy cotton. I had several of the "this isn't chiffon and light?" moments during this package session that my friend joked and said, "Do you not read the information about materials?".
I'm really happy with the Moitie bolero because I've been wanting one of their tulle boleros for a long time so when I saw this one, I bought it immediately. I'm pretty sure that it's going to be a piece that I wear often with my dresses.

Victorian maiden overdress, Juliette et Justine coat

Both items are ones that I've been wanting for a long time so I'm really happy to own both! I'm both excited and a little scared in regards to coordinating the overdress since it's tea-length, but maybe it might look nice with my dresses anyway?
I hope to find the same JetJ coat in gold. The coat doesn't match anything that I own, colour-wise, but I think that it would look really lovely with my white dresses.

Emily Temple Cute

The picture of this dress does not do it any justice. The dress is a beautiful teal with silver threads that make the polka dots shimmer. The instant I saw this dress, I was in love, and it was so cheap too! I've decided that it's going to be my new go-to dress, which should give my JM Stained Glass dress some well needed rest.

Millefleurs, Metamorphose

I didn't expect to buy the Millefleurs dress… but I couldn't resist because it was being sold for such a low price lol (it was cheaper than some Bodyline dresses and some Taobao brand dresses). I liked it a lot because I'm a sucker for jacquard and it looks luxurious despite the simple cut of th dress. It also has a bustle so there was no way for me to resist.
The Meta dress is a dress that I've wanted ever since it's release and I've regretted not buying it when it was first released. It looks like a 1920s dress or a more modern version of a 1900s-1910s children's sack dress that I loved i! My first choice colourway is navy but god knows when that will ever pop up, so when I saw the ivory colourway, I bought it immediately. It's such a comfortable dress that I know that I'm going to keep it until the day it falls apart. I hope to find the navy version one day.

Both Moi-même-Moitié

I ADOREEEEEEEE Moitie so much and I believe that many of their best pieces were released between 1999-2006. I've had such rotten luck hunting down old Moitie pieces that I was ecstatic when I came across these.

Innocent World, Angelic Pretty

This Innocent World print is one of my dream prints and while I'd prefer the ivory colourway, the lavender one will do for now! I was really worried about this dress since I've always had really bad luck with IW's shirred items but this one fits like a dream. It isn't tight and it doesn't create a uniboob, so I'm happy with it. When I went to the Baby SF opening with my mom, my mom saw someone wear the skirt version of this print (I think it might have been this lolita) and she said, "Now THAT is a cute print." She wasn't very impressed with Baby's prints lol.
I hated Wrapping Ribbon when I first saw it but the more I looked at this jsk, the more I loved it. I thought that the bodice was made of high quality satin or sateen and that the dress would be very light and flowy but au contraire, the bodice is made of burberry fabric (I think that's heavy cotton?) and the dress is quite heavy. The thoughts of wearing this dress casually on a hot summer day has gone out the window :(

Innocent World capelet and dress, Angelic Pretty, Kazuko Ogawa

I've always wanted a printed dress and capelet set (looking at you, Moitie's Candelabra series) so I'm really happy I got this one. I loved it when I first saw it but I was during my "Shouldn't Buy Lolita" phase when it popped up, thus I handed over my order to my friend. I was so happy when she sold it back to me because I thought I'd never get it. I do have several complaints about it though, but they're just me being picky. I dislike that the print isn't completely symmetrical on the dress because I think it cheapens the look of the dress and looks like the brand doesn't care for details. I really dislike it when designers do that because I think that it makes the dress look "off" to a lot of people. Another thing about the dress is that it's a freaking magnet for lint and dust. It's made of corduroy and it's black, so it's a given that any fuzzy would stick to it, but it's annoying because lint rolling the dress for over 20 minutes didn't help that much. The joys of loving black clothes.
I am SOOOOOOOO happy I got the AP dress because it's a dream! I guess some people might say that the dress will make me look like a overgrown baby, but I like to think that I'm going to look like an antique porcelain doll. A GIRL CAN DREAM. It's a pretty old piece (the owner suspects it was released in 2003-2004) and it's beautifully made. At first I thought that it was the white version of one of my dream AP pieces, but it isn't. The design is very similar but the material is completely different. I'm still on the hunt for the High Neck Shantung OP but this dress is definitely a keeper. It's probably my favourite piece from this entire haul.
Kazuko Ogawa is a brand I loved when I first got into lolita so to see on of the dresses I've wanted on Yahoo! Japan Auctions made me go bananas. I was so glad that there was a BIN option because I wouldn't even know what to put as a max bid. I'm a sucker for nun dresses and there is this one Moitie nun dress that's also been a dream dress foreverrrr (which I missed out on when it was sold on YJA), but now that I found this dress, I'm not too pooped about the Moitie nun dress. I thought that this dress was made of polyester and had an elastic waist, but I was wrong on both accounts. The original page for the item on Kazuko Ogawa did mention a velveteen version, which is what my dress is. I would have preferred the polyester version but I don't mind the velveteen since now I can stop lusting after the other Moitie nun dress, which is also made of velveteen. The dress needs a good steaming, which I hope will take out all the wrinkles!

Baby the Stars Shine Bright, Juliette et Justine

When I saw Labyrinth in the Reminiscent Mirror, I fell in love with the orange colourway because I thought that it was refreshingly different. I love the sax colourway too because it looks so light and cheerful, but the orange colourway looked like a sunset and gave a sort of melancholy feel to the dress, which I think is very apropos for the print. In addition to the print, I liked the tiers of chiffon and tulle, which is what made me decide to get the dress. The sad thing about it is that the dress doesn't fit me the way I want it to. I hope that I don't have to sell it :( I'll see how I feel after wearing it out at least once.
I sold my Feerie because I was annoyed by the straps but somehow I decided that I wanted the blue colourway. We'll see if it's a keeper or not! Maybe because I missed out on the AatP's Midsummer reserves that I felt that I needed to get this dress. Hrmmmm…

Metamorphose, Victorian maiden, Victorian maiden

I loved the Meta dress when it went up for sale but I didn't buy it for some reason. I don't recall why but ever since I missed the chance, I wanted to own it. I never thought that I would but here I am owning this beaut!
I sold my Classical Bouquet Doll dress before but regretted a year later or so. Since I lost some weight since the time I bought it, I thought that it would fit me perfectly, but it doesn't ;( Before, the bust fit but the waist felt a bit tight, but now, my boobs feel a tad constrained but the waist area is pretty loose. AGH!
I LOVEEEE gobelin prints and I'm really surprised that this gobelin dress is so light. My other VM dress made of gobelin is really heavy and thick, but this dress is very light in comparison and perfect for autumn weather. I adore the buttons in the front and thank goodness that it has a zipper back because I would hate having to button myself into this dress.

Friday - April 11th, 2014

Lolita Blog Carnival: What's Next On Your Lolita Wishlist?

My wishlist seems to be never ending and even though I tried trimming it down considerably, it's still quite long. I've actually wondered what would happen if I acquired every single item… Probably my closet would explode, hahaha!

Despite having a wishlist that never seems to end, I have two pieces that I would love to own one day. They are:

Juliette et Justine's Le premier cri de prophete robe in green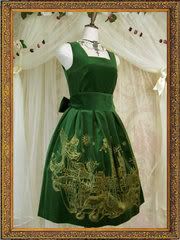 Moi-même-Moitié's Flocky print bustier and skirt in black

Why would I like to own these pieces?
I adore the details on the back of Le premier cri de prophete; the front looks very simple with an elaborate print, but it's the back of the dress that completes the luxe look of the dress.
As for the Moitié set, it's because it was a picture of Mana wearing the bustier that made me fall in love even more with the brand. In addition to that, I'm a sucker for flocky prints.
I hope to own both pieces one day. Juliette et Justine did say that they will re-release the print and I hope that the re-release will look exactly the same since I'd be quite bummed if they changed it the way they did with L'éclat de croix robe (although I do admit that I regret not buying the re-release). I'm not too hopeful about the Moitié set since I have the worst luck when it comes to buying older Moitie pieces. Going to continue crossing my fingers!!! I am pretty sure that I will never get rid of either one of these pieces once I find them.

Sweet and Simple
McDuff's Blog
Alpine Heidi
Sidhe Banshee
Whimsical Adventures of Me
Alice in Lolitaland
Armure de Rose
A Little Bit of This
Northern Star
Toothless Tigers
Buttcape
Lolita Glamour
Spoon & Fork
The Electric Carousel
ImaPrincess
Lace Teapot
Sleeping Sweets
Monday - April 7th, 2014
Back to lolita blogging?
Never thought that it would happen but I thought that I'd try another go. I think it would be nice to have a space I can turn to whenever I want to write more text heavy things, rather than clutter up my Tumblr with too much text. We'll see how this goes.
Thursday - April 3rd, 2014
Solvang + Los Olivos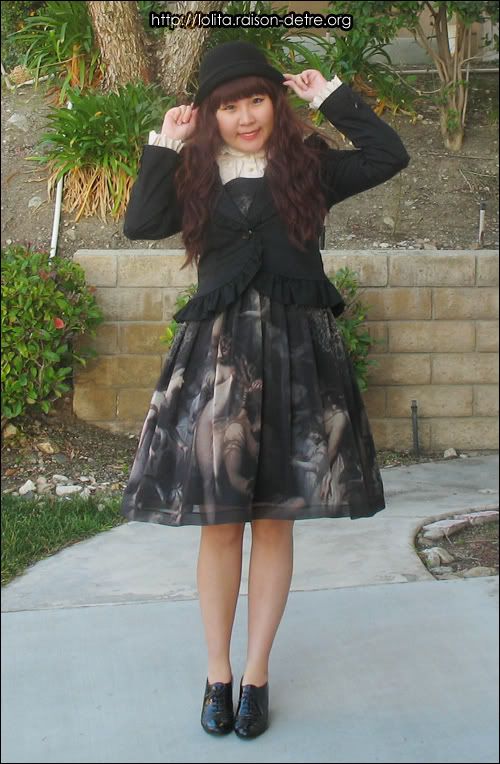 Hat: Forever 21
Blouse: Innocent World
Dress: Juliette et Justine
Shoes: Cole Haan
Found this old post in the "draft" section, so… here it is!
Friday - March 23rd, 2012
Protected: Chinatown, Back Bay, Beacon Hill, Little Italy
Enter your password to view comments.
Thursday - March 22nd, 2012
Protected: Museum of Bad Art + ICA
Enter your password to view comments.
Wednesday - March 21st, 2012
Protected: St. Patrick's Day, PBS, Isabella Stewart Gardner, MFA
Enter your password to view comments.
Thursday - March 1st, 2012
Protected: Quirky Jane Marple
Enter your password to view comments.
Sunday - February 26th, 2012
Protected: Meeting Aneta!
Enter your password to view comments.
Sunday - February 5th, 2012
Protected: Casual Twinkle Carnival
Enter your password to view comments.
Friday - February 3rd, 2012
Protected: Wonderland~
Enter your password to view comments.
← Older Entries --
Tumblr and to be a space where I can post whatever I want, mostly in regards to lolita fashion. This blog is not meant to be informational but a personal one -- please do not use me as a source of information/facts since anything stated on this blog are my personal thoughts and opinions.

Add this blog to your RSS feed

You can look up brands and such through here.





archives

I adore lolita fashion and I'm a collector/hoarder of sorts when it comes to this hobby. This blog is here to de-clutter my