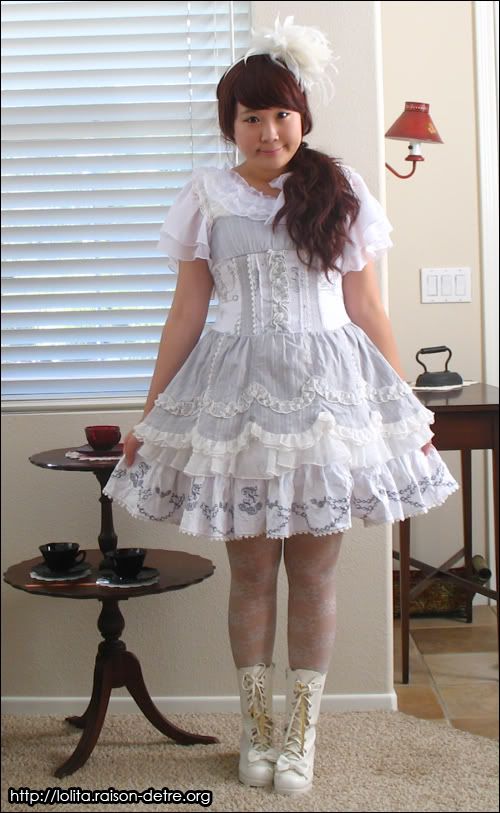 Headband: Forever 21
Cutsew: Dear Celine
Dress: h.NAOTO FRILL
Tights: Topshop
Shoes: Bodyline
This was my first Duran Duran concert and I was so, so, so excited!!! I was a bit bummed by the set list they were using throughout the tour but once they started, it didn't even matter what they played! I was in the moment, dancing and singing with other Durannies and it was really a night to remember.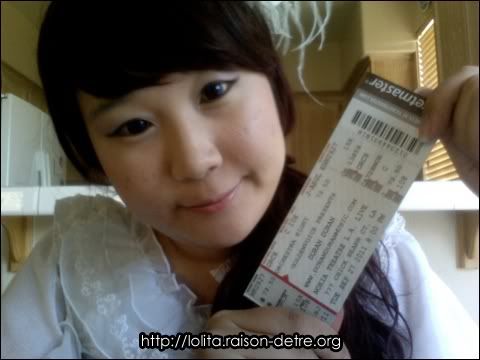 Took a picture with my ticket before leaving.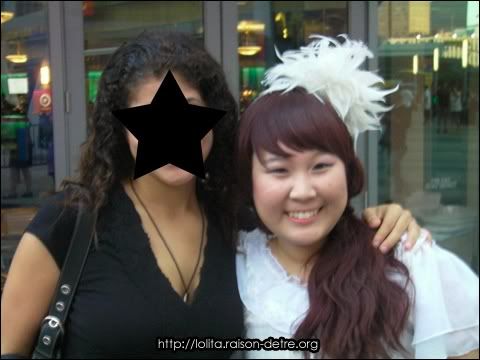 Someone working for Duran Duran's Facebook page asked my friend and I if she could take a picture of us. I was so happy that she asked! (I stole this picture from their Facebook page haha.)
THE SET LIST
-Return to Now
-Before the Rain
-Planet Earth
-All You Need Is Now
-A View to a Kill
-Blame the Machines (they used parts from Metropolis for the back drop!)
-Come Undone (Yeah Simon, like any of us would admit that we're a sex addict!)
-Safe
-The Reflex
-Girl Panic
-Tiger Tiger
-Careless Memories (F YEAH)
-Leave a Light On
-The Man Who Stole A Leopard (YES YES YES TOTALLY MADE MY NIGHT AND MADE UP FOR PLAYING SOME SONGS I WASN'T TOO FOND OF.)
-Notorious (I like the song but my god, it was even better live. I never realized what a fun song it was until I was with all the fans who knew the lyrics to it and dancing with them. I was hoping for Skin Trade but because I had such a fun time when they performed this song, I didn't really care what song they played from their Notorious album.)
-Hungry Like the Wolf
-Sunrise (I thank the gods that they didn't play this as an encore. But I admit, the live version is so much better than the recording although somehow not seeing Andy play the guitar part made me a bit sad despite being a fan of Dom.)
E1: Ordinary World (I thought this was an interesting choice…)
E2: Wild Boys (At which I went "Seriously?" with along with a fan next to me.)
E3: Rio (Predictable but still fun.)
Simon, Roger, and Nick sort of looked like this concert was a chore for them although Nick smiled a few times and even took pictures of the band members and the audience. I was a bit sad that he only looked to the side I was on once but it was ok because I caught him smiling a few times. But I guess Nick always has a :/ look on his face so maybe he was enjoying the concert. He was totally adorable bopping along to the music and he looked like he was really enjoying Rio. Also, his outfit was freaking AMAZING! I'm going to imitate his outfit except I'll lolita-fy it. The best part was in The Reflex, where it goes "Why-yai-yai […] *deep voice* yeah", Simon was next to Nick and Nick provided the deep "yeah" part and it was SO ADORABLE. I've seen in videos a few times when he'd either use some instrument or his synth to provide some noise but it was nice to see him actually say the "yeah" part! Nick said something afterward but it was hard to hear because the fans were going all crazy and the acoustics are kind of bad at the Nokia. After watching videos of it, I heard something like "I'd say it but I'd like to keep it low" (?!?!) and another fan said that she heard something about saving it. Well, I guess we'll never know since he changes it up every time.
Simon and Roger didn't look too happy but it was ok because both were phenomenal. I honestly would have not known Simon had vocal problems for the last few months because he sounded better than ever. He sounded better than any live recordings/tapes/recordings and his voice had that lower quality that it did in the beginning days of DD. His voice sounded richer and fuller than ever and I'm so glad that he was able to get better and be better than ever. I wondered if he'd be able to reach all the high notes or if he was going to skimp out like most vocalists do and just sing at a lower register but nope, he sang all the high notes perfectly. I guess Simon was happy because I saw pictures from the Meet and Greet and he looked really jolly!
John and Dom were a treat to watch and I decided that next time, I'm going to be on John's side. John looked like he was totally in the moment and Dom too!
I guess the best part of the concert was that even though looking at the set list makes me go :/ before the concert, it didn't really matter what they played because it was great to be with other fans who loved them as much as I do (and even more!) who sang and danced and sharing this wonderful moment together. Even though I was the only one in my 20s where I was sitting, age really didn't matter and it was just sharing this experience that made everyone a Durannie. There was a man standing next to me who kept starring at me as I danced and sang all the words to each song — I guess he was amused that some young girl knew all the lyrics lol.
And I can't forget about the opening group, Neon Trees. I respect them so much and the drummer and the vocalist had so much stage presence. I am definitely going to look into them because seeing them live was a great experience. I didn't know who they were when I walked in but I came out wanting to listen to more of their music!
After the concert, my friend and I went to the back door and there were other fans there waiting. One fan said that in 2009, they came out at 1:00 am and took pictures and signed autographs. Sadly this time, they did come out at around 1:00 am but they went into their vans and it was either Dom or John that waved before getting in.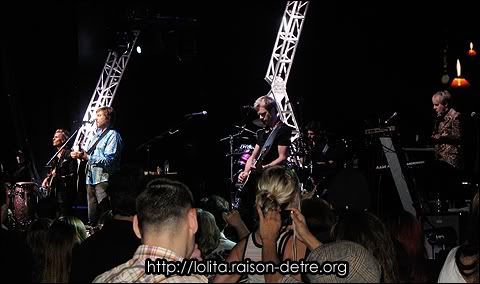 A picture I took during Leave A Light On. I got all the band members in it, yay!